Welcome to JADTA !
Use Google translate button at the top of this page
Presidential Address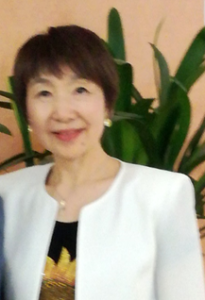 Welcome to out site!
I sincerely welcome you to use this site.
Through this site, I hope to interact with the people in the world and to deepen the information and technology that we have accumulated so far.
And I hope to further develop by receiving new stimulus from interaction with everyone.
Thank you,
Oct. 2018
Koyuki Onuma, president of JADTA
Purpose
JADTA is to develop communication among dance therapists and the people concerned with dance therapy, to inform the role and its techniques of dance therapy, and to promote dance therapy in mental health and the community-at-large.
Profile
JADTA is a non-profit organization founded in Tokyo in 1992.
The number of members is 272 in 2018.
The certification system for dance therapist started in 1999, and two more qualifications, associate dance therapist and dance therapy leader, started in 2005.
Our mark and words "

dance therapist" has been our registered trademark since 2007.
The board of directors
President

– Yukiko Onuma (professor of Tokyo Ariake University of Medical and Health Sciences)

Honorary president

– Takane Hirai (Nara Rhythm-Dacne Therapy Center, honorary professor of Nara Women's University)

Advisor

– Sharon Chaiklin (the 2nd president of ADTA)
– Touru Iwashita (Butoh dancer of Sankaijuku)
– Gosei Hirata (Executive Director of Jikei Gakuen)
– katsumi Yamanaka
– Shoichi Machida (honorary professor Otsuma Women's University)

Vice-President

– Toshiharu Kasai (professor of Sapporo Gakuin University)
– Yukari Sakiyama (associate professor of Mukogawa Women's University)

General Manager

– Arisa Yagi (professor of Japan Women's College of Physical Education)

Editor of Japanese Journal of Dance Therapy

– Hiroki Ogyu (professor of Hosen College of Childhood Education)

Committee for dance therapist certification

– Yukari Sakiyama

Committee for training

– Yukiko Onuma

Regional D/MT Promotion Committee

– Asuka Watanabe (professor of Hokkaido Bunkyo University)

Newsletter editorial board and Web Manager

– Jin Hoshino (Director of Bibai Suzuran Clinic)
Action
1. Training

We have the training lecture twice a year and annual conference. In there we provide comprehensive knowledge and workshop of dance therapy for members and citizen.

2. Certification

We organize a certification system to raise technical level and qualify therapist's ability.

3. Study

We support member's study by publicizing our annual journal "Dance Therapy Study".

4. Publication

At first, we have seasonal newsletter "JADTA News". We introduce some news about dance therapy and relational information as domestic & international topics, articles & references, and interview with special persons.
Next, by our official site, we provide information of dance therapy, activity of our members, events, database, and SNS.

5. Grant

We aids our members to act in their area. For example we have aided some members for supporting the survivors from the earthquakes.

6. International Exchange

We take part in the evens for dance therapy in foreign countries and promote international relationship.
Certified Dance Therapist
We have a certification system for dance therapy. We have certified about 30 certified dance therapists.
Journal
We issue "Japanese Journal of Dance Therapy" every year.
Annual Conference
28th Annual Conference
12-13 October 2019
Hasunuma Regional Exchange Center (Chiba, JAPAN)
Chairperson: Keiko Kifune
Contact: 


Contact
Japan Dance Therapy Association
office: MC-MUSE, 2-17-13, Hongo, Bunkyo-ku, Tokyo 113-0033 Japan
call: +81-3-3812-3605
fax: +81-3-3812-0376
email: